Steps to Class Registration
SET UP your UNCA email account (refer to your admit letter for instructions.) Contact the ITS Help Desk at helpdesk@unca.edu with any issues.
SUBMIT your enrollment deposit after you are admitted.
WATCH the videos below on UNCA's curriculum info and how to register
SUBMIT Student Information Form (under Next Steps in your Application Portal)
RECEIVE RAN (Registration Access Number)
REVIEW what courses you need in GradPlan
REGISTER for classes (you will need your RAN)
CONNECT to asc@unca.edu with questions at any point in the process
**Follow us on Instagram! We post academic information during the year with important how-to's, policies and other helpful information for student success: @unca_asc**
---
How to Register for Classes
Welcome, bulldogs! Watch the videos below to learn about UNC Asheville's curriculum and create your first semester class schedule. Keep the First Year Registration Checklist handy so you complete each step.
Part 1: Your First Year Experience Courses
Helpful Links:
First Year Registration Checklist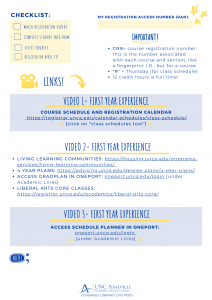 ---
Part 2: The Liberal Arts Core and Your Major
Helpful Links:
---
Part 3: Register for Classes
Helpful Links:
Final Step:
Complete the Student Information Form, located under Next Steps in your Application Portal. 
Tips:
---
For Engineering Students
Engineering Schedule Planning Cheatsheet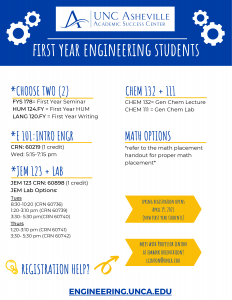 ---
Your Academic Advisor & Major Declaration
In your first semester at UNCA, you will be assigned a faculty member as your advisor. The faculty member will either be the instructor of your First Year Seminar (FYS 178), an instructor in your intended major, or a faculty member involved with the first year experience. No matter who your academic advisor will be, they will be committed to providing support and guidance as you arrive at UNCA.
When you are ready to declare your major, please use this form. Once you are declared you will be assigned an advisor in that department. Please note that some departments have specific requirements and prerequisites before you can declare. Check the University Catalog for more information. We encourage students to declare a major during their Sophomore year.
After your first semester, if you are unsure about what you want your major to be, you will be assigned a professional advisor in the Academic Success Center.